After a two-year-long nightmare, the light is at the end of the tunnel for Klay Thompson as he prepares for his return in late December/ early January.
Klay Thompson's highly anticipated return to the Golden State Warriors is one of the many headlines of this NBA season. For Warrior fans, this will be an accumulation of emotions that have amassed over the past two years.
The Golden State Warriors legend has been injured for the past two seasons with a torn ACL and a ruptured Achilles. Klay tore his ACL back in game six of the 2019 NBA Finals against the Toronto Raptors. In game 5, Kevin Durant would rupture his Achilles, a nightmare week for the Warriors.
Klay was having a great Finals series prior to his injury. In game six, Klay was scoring at will. He was proving to the basketball world that Game 6 Klay was a real thing. Hitting tough shot after tough shot, he was keeping the Warriors in the game. With every shot made, the Warriors were getting closer and closer to forcing a game seven and possibly completing the 3-1 comeback. But those dreams would be crushed as Klay would be clobbered on a fast break layup by Danny Green. It was no dirty play, but the damage was done. Klay had torn his ACL.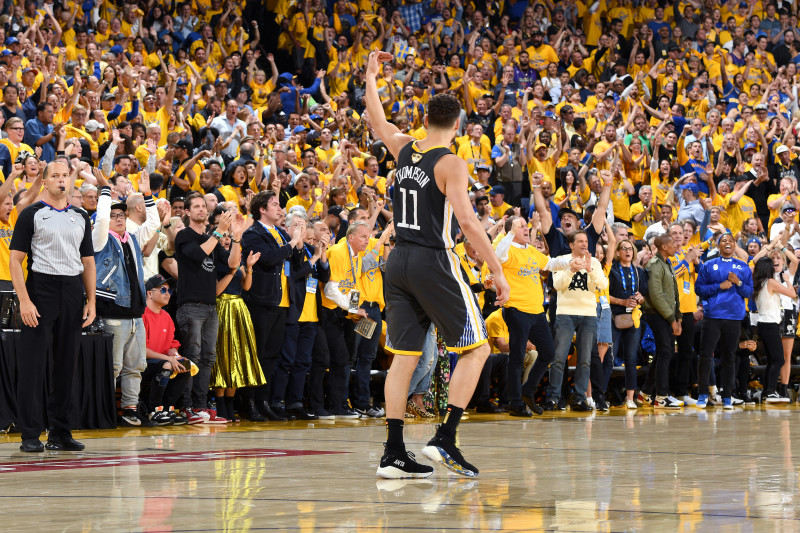 But what happened next was one of the many defining moments of Klay's career. When he showed many fans that he a true competitor.
Klay was walking down the players' tunnel, as someone yelled down to Klay that he would not be able to return if he didn't take his free throws. Without hesitation, Klay turned around, clearly favoring his left knee, limping back onto the court. He was met with a roar from the Warriors crowd as there was hope Klay was okay. He was told to just take the free throws and then foul a Raptor to be taken out so he could be examined. But after he sunk both free throws, Klay immediately heads back with every intention to continue to compete for a championship. It was clear, he was hurt. The Warriors would call timeout and Klay would be taken back to the Warriors locker room. Shortly after, it was announced that he had torn his ACL. Klay would miss the 2019-20 season. Even though the Warriors lost the series, it was one of the most memorable because of this moment alone.
The 2019-20 season was not good for the Warriors. The season was lost early on, as Stephen Curry would break his hand. Aron Baynes would sit on it during a regular-season matchup against the Phoenix Suns. With Steph hurt, the Warriors turned to their young players and it went as well as it could. The Warriors would finish with the worst record in the NBA in a shortened season due to COVID-19. They would finish with a record of 15-50.
Klay was gearing up to return for the 2020-21 season. But tragedy would strike. Klay would suffer a crushing blow just moments before the 2020 NBA draft, as it was announced he had ruptured his Achilles during an offseason workout. This was a huge setback for Klay and the team. The Warriors would have to scramble for a replacement, which would be difficult as many veterans saw this and assumed they'd have a better chance of winning elsewhere.
The Warriors would have an up-and-down season as they would be forced to rely on young players like Jordan Poole, and rookie James Wiseman. Then also throwing players like Damion Lee, Kelly Oubre, and Brad Wanamaker in key roles next to Stephen Curry and Draymond Green.
Poole and Lee would improve as the season went on, but Wiseman would hurt his MCL against the Houston Rockets on April 10th. The infamous Warriors legend, Brad Wanamaker would be dealt to the Charlotte Hornets and Kelly Oubre would hurt his wrist in practice late in the season. Oubre would be shut down for the season after this injury.
This team would end the shortened NBA season with a record of 39-33 and technically, the eighth seed in the Western Conference. The Warriors would lose to the Los Angeles Lakers and the Memphis Grizzlies in the play-in tournament. They would be bumped down to the ninth seed.
This brings us to the present day, as the Warriors patiently wait for Klay Thompson's return. At the time of writing, the Warriors are playing well. They sit at a record of 7-1. But adding one of the best shooters to this squad is a frightening thought for opposing teams.
The Warriors are going to be very patient with Klay. They will not rush his return. They want to make sure he is 100% ready to return.
Ramona Shelburne Of ESPN, said, "A lot of this is conditioning," Shelburne said. "He's doing well in his rehab, but he's missed two seasons in a row now."
On top of that, it is hard to see Klay coming back for a marquee matchup like Christmas Day. As amazing as it would be to see him light it up, it's safe to assume he plays a bottom-feeder team to get his feet under him. His first game of the season was also confirmed as a home game by the Warriors general manager, Bob Meyers.
Klay Thompson's return will be an emotionally charged night for all Warriors fans. It will ultimately be the culmination of two years of Klay-less basketball and his return will be the highlight of the season, regardless of the Warrior's play at that time. Klay's return cannot come soon enough.
Even with all of the hype surrounding his return, we do need to temper some of the expectations. A torn ACL and an Achilles rupture, back to back, are devastating to any player. So working him back slowly is much needed. He may struggle early on because of his lack of gameplay as well. There is no real way to simulate an NBA game, other than actually being out there on the floor. Shooting around is one thing, but getting back out there on the floor with nine other players is a whole different beast. Expect the Warriors to look for him early, and often when he does return though. But when Klay hits his first three, I know real Warrior fans will have tears in their eyes, because it symbolizes the end of the road for the toughest two years of Klay Thompson's career.
Like Steph Curry said, "It's going to be beautiful. Beautiful basketball. Honestly, it's probably going to be emotional, for sure, because of everything we talked about. But I'm excited that it's as close as it's ever been, and will continue to get that way. I know the crowd is going to show him so much love like he deserves."